We CREATE & CONNECT to help brands make a strong SOCIAL MEDIA presence

Dixinfotech eliminates social media from your daily routine
So you can focus to Grow your Business (Read our story)
_____________________________________________________________________________________________
Looking to tune your business with social media marketing strategies?
This is the perfect place and time to make it happen!
For companies of all sizes, social media marketing is an effective way to connect with prospects and clients. There is a variety of social media platforms available to marketers today like Facebook, Instagram, LinkedIn, and many more. So, if you are not utilizing these platforms then you are missing out!
Strategic marketing on social media platforms brings remarkable success to your business and drives unlimited leads and sales.
In this complete guide from Dixinfotech, you are going to learn:
What is social media marketing?

What is a social media marketing strategy?

Benefits of social media marketing

Creating your social media marketing plan

Social media marketing tips

The best social media marketing platforms for business

Best free social media management tools in 2022

Time to Get Social
What is Social Media Marketing?
Social Media Marketing means utilizing social media channels like Instagram, Facebook, Twitter, Pinterest, etc to promote your brand and sell your services.
Social Media Marketing helps businesses to:
Amplify brand awareness

Develop active communities

Promote your goods and services

Evaluate brand satisfaction

Offer considerate client service

Promote goods and services to target markets.

Monitor results and make necessary adjustments to more extensive marketing plans.
What is a social media marketing strategy?
An outline of your company's content posting plans, the duties of your social media staff, and the social media platforms you'll utilize to advertise your brand define a social media strategy. This also contains the required tactics and metrics that your business uses to measure your goals.
Your social media marketing strategy should also include your overall goals that are linked with each platform that you are active on. From social content guidelines to social media marketing campaigns, from featuring creative plans to building engagement strategies, businesses commonly use these strategies to connect with their customers and provide the necessary support.

Finally, a good Social media marketing strategy defines the roles and responsibilities within your team and that it defines the brand's voice and positioning.
Benefits of social media marketing strategy
Help you to set goals
An effective social media strategy established clear goals and expectations for your social media marketing efforts. This also focuses on increasing your brand awareness by allowing you to build a visual identity or launch a rebranding campaign for your business. Social media marketing strategy helps the company to provide a blueprint that is followed by your team to keep your marketing consistent, on point, and relevant to the target audience.
Allows you to track the overall performance
It is just not enough to have a goal for social media marketing for your business it is also important to track the performance and your progress towards the goal. The introduction of Key Performance Indicators helps you to monitor your progress towards your business goals.
To achieve this, it is highly recommended to approach the top social media marketing companies in India to help your business achieve its target.
Over time benchmarking
Benchmarking your social media marketing strategy helps you to track your social media productivity and analyze the current performance compares to industry standards. Benchmarking also compares your progress with that of competitors' progress and your past performance.
You can identify social media marketing elements that need to be improved in order to meet your marketing objectives by comparing your performance using benchmarking.
Creating your social media marketing plan
Now that you are aware of the benefits of social media marketing strategy, it's time to put it into action. Your social media plan helps you to carry out your strategy so you can measure your success and spend your resources effectively. Here are a few ways to help you create a social media marketing plan:
Select your platform
Choose your platform based on your target audience and the platforms that are popular in your industry. Initially, you can take one platform and maintain consistency and later add on more slowly.
Set objectives
Set a goal of posting once a day, setting up your profile, and doing a competitive analysis. Once you make it your habit and gather insights, you will be able to set more strategic goals for your business.
Do analysis
Do analytics of each platform to identify the posts that generate the highest engagement, and more followers, and also to know the demographics of the audience.
This excellent social media marketing plan is definitely set up to scale up your business and also generate the highest leads.

Get in touch with a social media marketing agency in India, to witness and bring to life these plans to positively impact your business.
Social media marketing tips
Ready to get started with social media marketing? Here are a few social media marketing tips to get your campaigns off the ground.
Create unique content
Content is the most important thing when it comes to social media marketing. Make sure that you remain consistent while posting, and offer valuable information that is useful to customers. Some tips that you can include:
Quick Tips

How to's

Statistics & Data

Polls & Questions

Updates
Social media offers a variety of formats that includes images, videos, templates, live streams, and more.
If you want help in creating unique social media content, check out our social media page and contact us!
Be consistent
Posting content regularly is always a good rule of thumb to follow. Each platform has its unique environment, and being consistent by maintaining a content calendar for each platform is a strategic way to keep things on track.
Be mindful of maintaining these components consistent regardless of the size of your organization and the platform you are using:
Brand image

Brand message

Aim & Vision

Post frequency
Don't just post- Participate
Don't simply log in once a month to schedule all your postings. Communities can be found on social media sites. You must be aware of who is engaging with your content and respond by doing the same. You should reply to comments, like, share, and comment on other people's posts, host live streams, post polls and encourage discussions with real-time questions, and repost other people's stuff.
Introduce content creation tools for your business
Don't be trapped and believe that Instagram is the only visual social media platform. Include eye-catching graphics with your posts—photos, illustrations, or text that has been transformed into art—if you want to stand out in a user's feed. With the help of templates and features in content creation platforms like Canva, you can easily create images that reflect your brand, look professional, and have your logo on them.
Track & Analyze Metrics
One can't determine the success of their social media marketing strategy without tracking data. One of the most crucial tasks to take when developing your brand online is to dive deep into social media analytics.
For example, Google Analytics is an excellent social media tracking tool that helps you to measure the most working social media strategies and also analyzes the ones that are better off the board.
You can also utilize social media as part of a marketing campaign to highlight the importance of social media marketing that helps people in long run. For example, Dixinfotech posted a short video on Instagram featuring "5 Social Media Marketing Tips & Tricks to Boost your Online Presence".
The bottom line is that creating an effective social media marketing strategy improves and builds your online performance and engaging with audiences increases your overall reach. Most importantly, analyzing and tracking your metrics helps you to determine whether you are on the right track or not.
The best social media marketing platforms for business
The best social media platforms for businesses include:
Facebook

Instagram

Youtube

LinkedIn

Twitter

Snapchat

TikTok
Each social media platform requires different approaches. So, let's take a wider look into these platforms: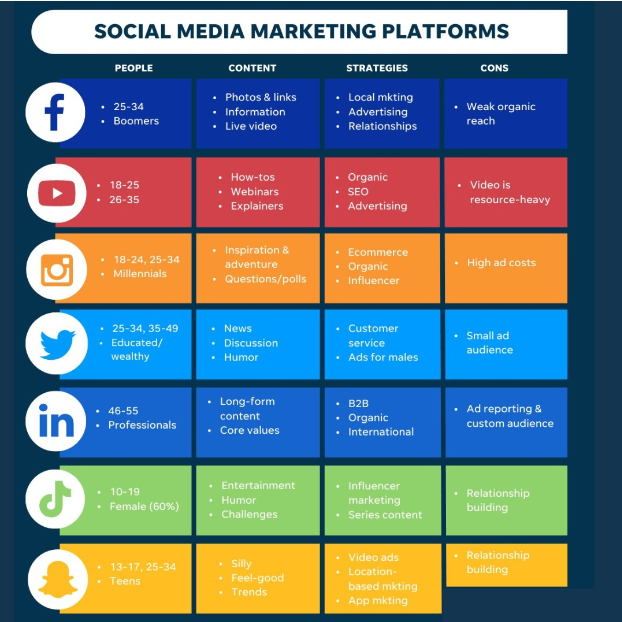 Facebook
Number of monthly users: 2.89 billion
Demographics: Men and women, ages 18-65 or older
Facebook is the largest social media platform globally, with more than two million users. It is also one of the biggest local business directories. Being the top Facebook ad agency India, Dixinfotech gets you the highest number of customers from Facebook as advertising in the best social media platform only scales up your overall business. People of diverse age groups use Facebook to communicate with each other, participate in forums, and find & visit businesses near them.

Facebook gives you the opportunity to create a community out of your customer base because of its enormous popularity.
Facebook is a great social media marketing platform to:
Connect & build relationships with current customers
Announce events, forums, and discussions
Hold live streams
Ask Questions
Dixinfotech, Facebook marketing agency India, provides its customers with widespread options to broadcast your online business and scale up your business. Not only this, being the top SMM company in India, we provide result-oriented social media marketing services.
Get better ROI with bull's eye techniques that convert!
Instagram
Number of monthly users: 1+ billion
Demographics: Men and women, ages 18-64
Instagram is one of the youngest social media platforms with the majority of users under 25. This makes it a perfect social media platform for brands targeting the young generation.
INSTAGRAM BUSINESS ACCOUNT BENCHMARKS
Average Account Growth and Publishing Benchmarks for Instagram Business Accounts


Instagram is highly popular for its diverse content formats, which include posts, stories, lives, reels, boomerangs, and IGTVs. People generally use Instagram to follow influencers who inspire and businesses from whom they purchase.
However, the cost of Instagram ads is generally higher than Facebook ads. The good thing about Instagram is that its organic reach is very high.
LinkedIn
Number of monthly users: 310+ million
Demographics: Men and women, ages 25-64
When it comes to professionalism, nothing beats LinkedIn. It has a large professional network of employees and business owners, making it far more formal than other social media platforms.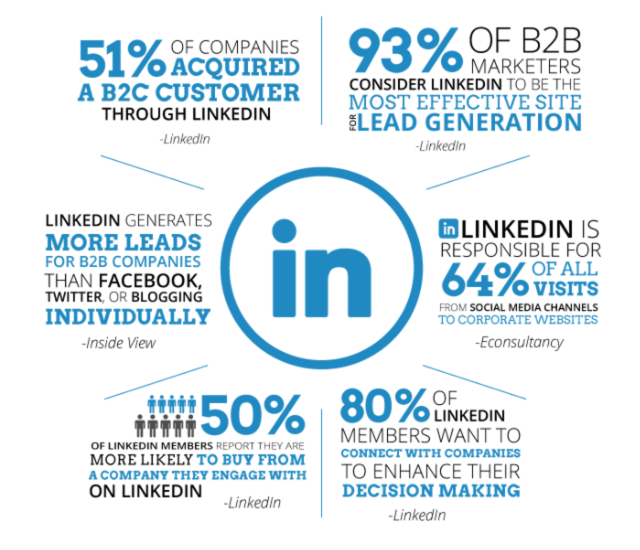 Therefore, it's a great platform to showcase your corporate culture and develop your own brand in addition to using it to network, identify prospects, and share market knowledge.
This also means that companies that seek businesses as clients will be more profitable through LinkedIn than companies that market directly to consumers.

Youtube
Number of monthly users: 2+ billion
Demographics: Men and women, ages 18-65 and older
Youtube is considered the second largest search engine in the world after Google which makes it a one-stop for content since a lot of people use it.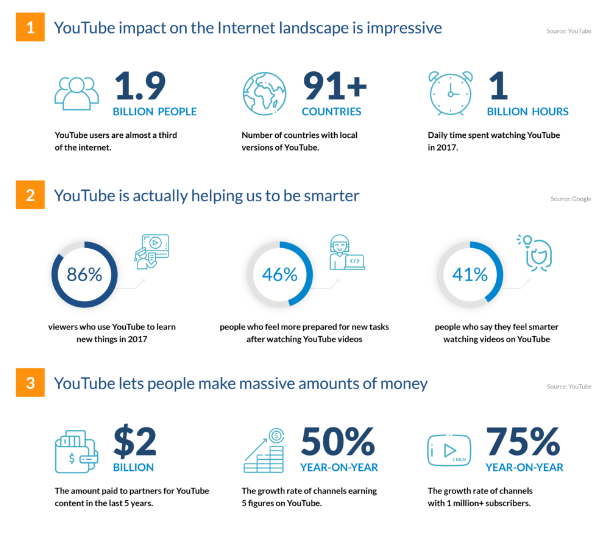 REMARKABLE YOUTUBE STATISTICS YOU PROBABLY DIDN'T KNOW
Product reviews, how-to videos, and other related material are extremely successful on YouTube, especially when they educate a segment of your target market. Additionally, after you upload a video, it will begin to appear in search results on Google and YouTube, and you may promote it on your other social media profiles.
Additionally, your homepage features a curated feed of suggested videos. The secret to successful social media marketing on YouTube is to give value rather than trying to "go viral."
Twitter
Number of monthly users: 4.48 billion
Demographics: Men and women, ages 18-49
Twitter is well-known for its stream of information from all over the Internet. This social network may not have the same widespread user base as Facebook, but it is undoubtedly one of the most open networks in the world.
KEY TWITTER STATISTICS YOU MUST KNOW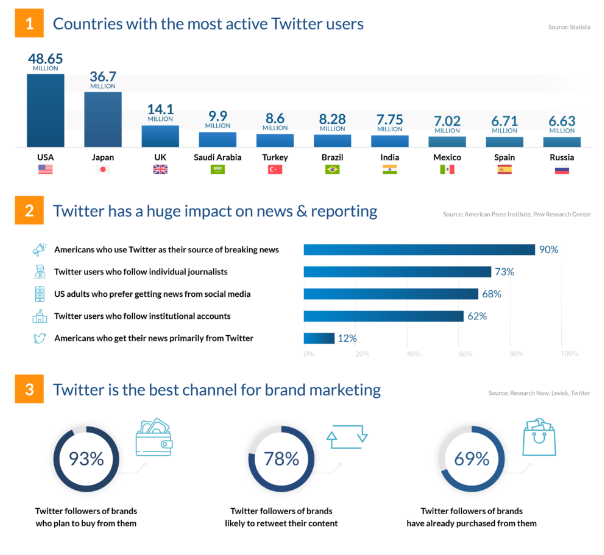 Twitter is used by many people to follow brands, get news, and get customer service. When a consumer compliments you on Twitter, be sure to retweet it. You should also try to respond to queries whenever you can.
Best free social media management tools in 2022
Posting to social media is a "time-consuming" task from reviewing analytics for each platform to handling innumerable aspects of social media marketing. This raises the question, How can you afford to do everything without Social Media tools for marketing?
But with so many options and some with high prices, it could be difficult to decide which tools are both effective and reasonably priced. Here are some of the best Social media tools for Marketing that are free as well as effective.
Later

Buffer

TweetDeck

Friends+Me

Hootsuite

Crowdfire

Tailwind
Later
The application was introduced solely as an Instagram scheduling tool, and now is recognized as an all-in-one social media scheduler.
Whether you want to schedule image or video posts, stories, or carousel posts- Later has all the options.
Number of profiles: 6 (1 per platform)
Platforms supported: Instagram, Facebook, Twitter, Pinterest, TikTok, LinkedIn
Buffer
One of the best applications for managing your social media as it perfectly schedules your posts. Buffer also features an analytical tool that tracks your audience's activity and suggests you the best time to post in the future.
Number of profiles: 3
Platforms supported: Instagram, Facebook, Twitter, Pinterest, and LinkedIn
TweetDeck
A free application that enables you to manage multiple or unlimited Twitter accounts from a unified interface. Its social media dashboard allows you to send and receive tweets as well as manage your Twitter profile.
Number of profiles: 2
Platforms supported: Twitter
Friends+Me
The application is not known to everyone but is good for people who are just getting started due to its easy access and usability. It also allows scheduling for 5 posts per queue (2 queues included in the free plan).
Number of profiles: 2
Platforms supported: Facebook, Twitter, Tumblr, Pinterest
Hootsuite
One of the most established and popular applications for social media scheduling and marketing. You can also receive in-depth reports, and collaborate with your team members due to its amazing features.
Number of profiles: 2
Platforms supported: Instagram, Facebook, Twitter, YouTube, LinkedIn, Pinterest
Crowdfire
This free and the perfect social media management tool is best if you want to curate or redistribute your own content making it a part o your content marketing strategy. The scheduling is available on this tool for up to 10 posts per month.
Number of profiles: 3
Platforms supported: Instagram, Facebook, Twitter, LinkedIn
Tailwind
The tool offers free creation of accounts and is best for visual platforms like Instagram. Tailwind also provides scheduling offers for up to 20 posts per month.
Number of profiles: 3
Platforms supported: Instagram, Facebook, and Pinterest
So, the question arises! WHAT IS THE BEST Social Media tools for marketing?
As you can see, there are several social media tools that are free and have effective management tools that are well-versed to manage your business. These tools help in expanding your social media efforts in the future as well as the present. Being the best social media marketing companies in India, Dixinfotech develops an outstanding social media strategy for your business and considers factors that will help your messages reach the right audience.
Time to get social
Leveraging the strategies of social media marketing not only improves site traffic and your reach but also turns your business into a personality that your target market can relate to and communicate with on a deeper level.
Remember: Prioritize your audience, focus on the content that works, and engage on one social network at a time. In no time, you'll start to notice traffic and results.
At Dixinfotech, we have a large workforce of social media experts who understand how to maximize the application of Facebook, Twitter, Pinterest, LinkedIn, and other platforms. We constantly stay up-to-date with the latest trends and practices of social media marketing. Being a renowned social media marketing company in India , we strive every day and give our best to get you the results that your business needs.
By contacting us, you will get everything accessed in a single dashboard. From planning, scheduling posts, tracking relevant keywords and staying on top of engagement to getting business reposts that are easy to understand and improving your strategy as needed.
Are you ready to get more customers through the best social media marketing services? Contact us to leverage the strategy that will work for your business.

FAQs
What is meant by "social media marketing?
Social media marketing (SMM) focuses on social media platforms like Facebook, Instagram, and TikTok to promote brands, build target audiences, increase website traffic, and boost sales.
Which social media channel has the most users?
Facebook with more than two billion people using it every month which indicates that almost 39.6% of the world's population are Facebook users.
Connect with us to enjoy the best of services as we are the best Facebook advertising agency, India.
What kind of content should I post on social media?
Informational, interactive, and inspirational content works best on social media platforms.
Which marketing platform is the best?
Top marketing platforms:
HubSpot

MailChimp

Marketo Engage

Keap

Pardot

SendinBlue

SharpSpring

Zoho

ActiveCampaign

OmniSend
How can I make money from social media?
Dixinfotech presents you with the most useful ways to make money from social media. These are:
Partnership with brands of your choice

Affiliate marketing

Sell your own merchandise

Social media selling by providing premium services

Starting a membership program
Do I really need social media marketing?
Social media marketing is an essential part of your business marketing strategy as social media platforms like Facebook, Instagram, Twitter, and more help to drive business growth. They also help you to connect with customers, increase brand awareness, and boost your sales and leads.

What are the benefits of social media marketing?
Increasing brand awareness

Higher traffic

High conversion rate

Improved search engine rankings

Improved brand loyalty

Good customer satisfaction

Higher conversion rates

Cost-effectiveness

Increased Revenue

Retargeting opportunities

Better customer services
There are innumerable benefits of social media marketing. Get in touch with the best social media marketing companies in India to scale up your business growth.
What are some examples of social media marketing strategies?
Encouraging the creation of a wishlist to know about your customer's interests or asking them to fill up a form

Offering exclusive access to your services & products

Setting up features on your online platform. For eg: questions on what they are looking for

Using Pinterest to keep up with the latest trends